Due to offers and requests to buy seperatly i started a new thread and closed and locked the other.

The following knives are for sale... Many are from the Parker Cutlery Co. they are all in like new condition.... Most of them dont have boxes unless noted ... Many of them have light scratches/brushing from shelf marks and storage.. .... None are used at all but most show light signs of ware,...... Descriptions are below each picture...

Prices are now broken up as i have gotton too many offers to sell them seperaly..
Prices include shipping and are not 100% set in stone... If you want more than one.. I may be able to make a deal... Feel free to ask for an upclose pic if needed Asking price, OBO $170--->

$158

Shipped for the whole bunch..That is left. I really need these to go today...
$125 shipped for for 17 knives.....


NOW $110 SHIPPED

Final DROP at 95$ shipped for 15 knives....
-Picture 1- Top to bottom
1.
Unknown Survival Blade.. Somes with sharpening stone/ survival kit in handle and a compass on the pommel.. Hairline crack on compass cover... Full leather sheath included
30$
2.
Taylor Co. MCR-11 Handmade Japan
SOLD
... Tanto fixed blade with leather sheath.
3.
Parker Cutlery Co... Fixed blade with Ti-Ni polished finish.. Plastic Handle.. And Plastic/kydex sheath it clips into.. Japan
$35
hold
4.
Taylor/ Seto Bali Song- Golden
SOLD
Dragon- Japan In Box.. Huge.. Like a foot long...
5.
Standing Stone Cutlery.. R.M.S titanic #334 with writing on back of blade. Looks to be bone handle...
$35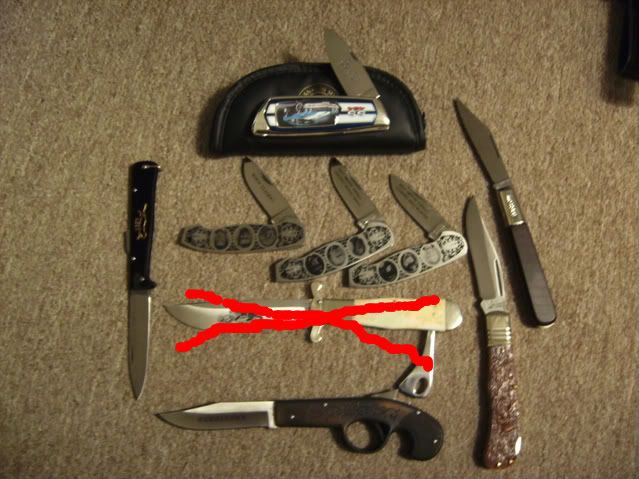 Picture-2
Left-
Mercator Germany on handle. Solengin Germany on blade... Lockback.. Looks to be all steel construction.. Wier German engraving with a K55 followed by a backward K And what looks to be a jaguar...
$30
Top-
Franklin Mint Slip Joint in Leather Pouch.. 1970 Chevelle SS 454
$40
Next Row
-3 from Parker Cutlery.. Steel Slip Joints... American Generals # 043 and #044.. 1 Born leader.. presidents pics...
$25 Each
3rd Down
- Parker Cutlery-
SOLD
Swing Guard type w/ that odd lock "Game Hunter" W/ bone handle
$45
Bottom
- Parker Cutlery- "Derringer" lockback in the shape of a gun.
$30
First on right
- C-1 Japan 1001?
$15
Far Right
- Imperial Ireland- Barlow
$25
GONE
Picture 3-
Top Left
- Parker Cutlery- 1982 World Fair
$20
Bottom Left
- Taylor Cutlery Co. "Compliments of the IRS" engraved on back. Japan
$25
1.
Chinese lock back
$10
2.
United Lock Back
$10
The rest are random Cheap ones...
Giving away
And this Bali Song- used in box
$13

-Taylor Dragon Bali Sold
-Taylor MCR-11 Fixed blade Sold
-Parker Cutlery Swing Guard "Game Getter" Sold
-Bottom 4 cheap ones i will be giving away as gifts for purchasers...
Email or PM
zerochance@sbcglobal.net
Thanks
Matt B.