I've owned ZT's before, and IMO probably the best EDC ZT for the money is the model 350. Having used them extensively in the past, I know they're a great knife that peforms well and isn't as hard to maintain as most people think (talking about recurve sharpening) given the proper tools.
Last week I had the opportunity to try out a custom engraved version of the knife and picked up a couple for the shop. These were done by an ebay user who laser engraved the blade. The engraving is really well done, it's sharp and clear, extremely professional looping and it doesn't eat into the blade. Personally, I think the Biohazard version is pretty boss...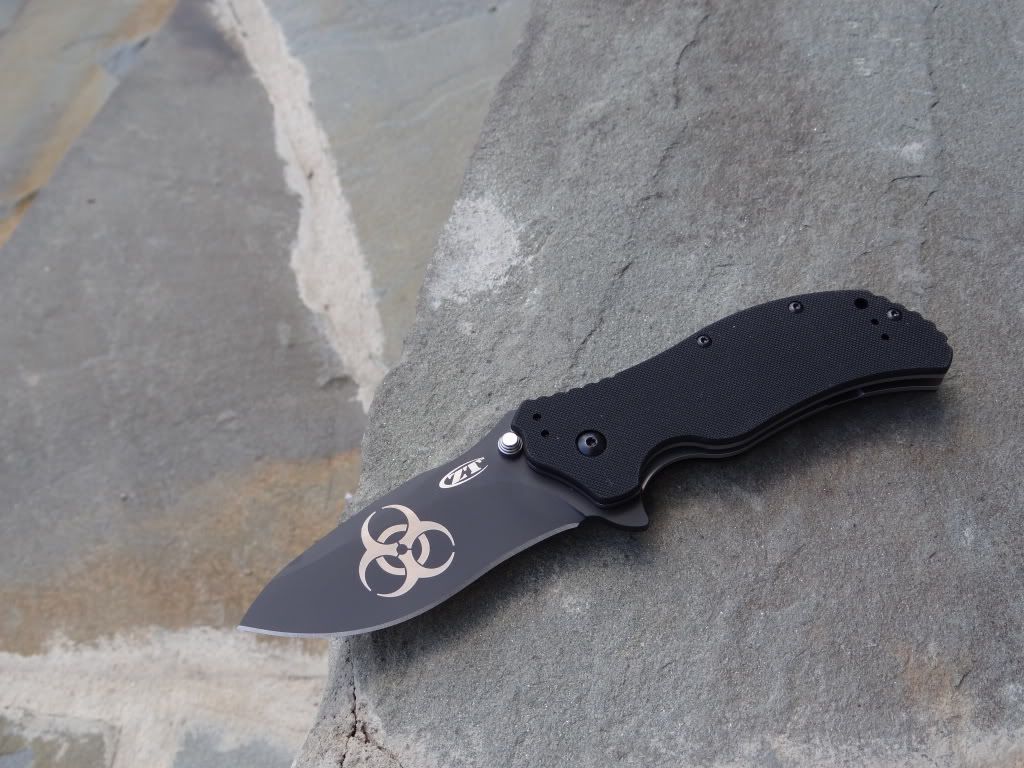 Back to the 350, I have to say, I love this knife. Having owned thousands of knives, I can say there are some out there that are real gems, and this is one of them. ZT is in my estimation the best hard use/heavy duty style knife in the business currently, flatly beating Emerson, Strider, heck even Rick Hinderer in terms of quality for the money.
The 350 runs about 140$ new from respectable dealers, I'm sure you could find it cheaper on eBay or from a bottom tier backdoor dealer, but for the purposes of review, this is a 140$ knife, and that sets my benchmark. Compared to other knife companies, ZT really delivers an outstanding product for the money. I think a lot of other companies, especially Emerson, like to downplay their poor (frankly horrible) fit and finishing owing to the fact that they're billed as hard use knives. ZT's a little different, not only are ZT's super heavy duty, their fit and finish is some of the best in the industry as of Feb 2012.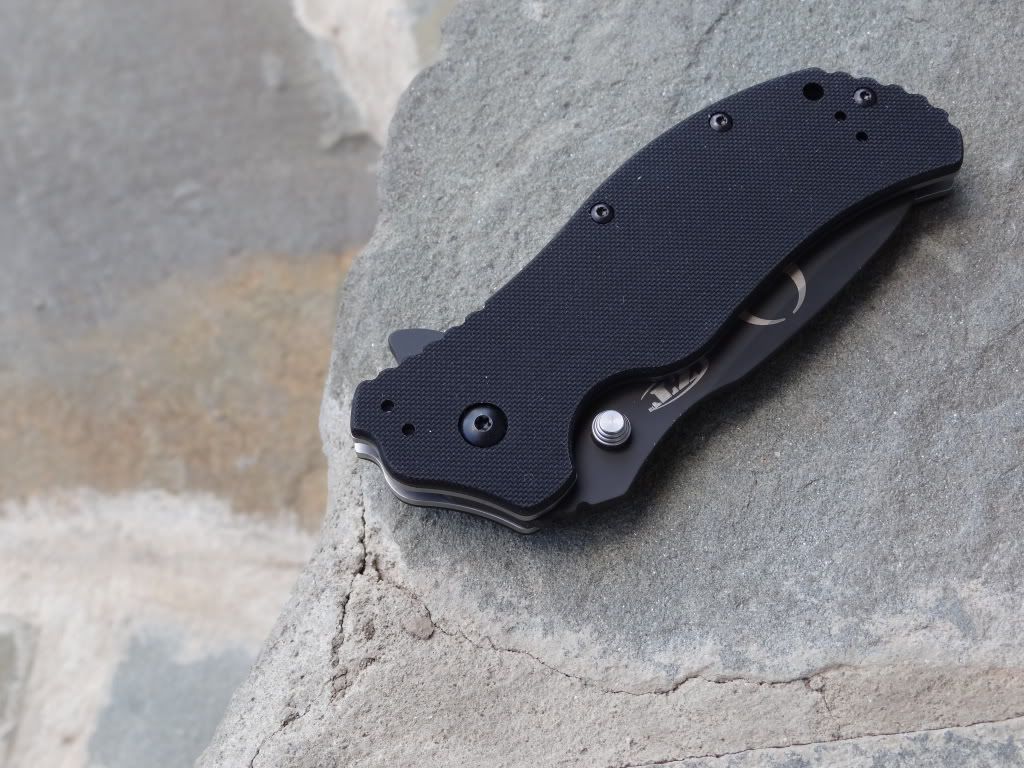 The 350, tho, has got a lot of things going for it. The handle is ergonomic, grippy and sturdy thanks for an awesome design from the collective minds of Ken Onion and Mick Strider. Kershaw's Speedsafe assist makes quick work of opening, and S30V steel at a reasonable price point with a DLC coating means this knife will perform well from day one and continue to perform for the entire lifespan of the knife.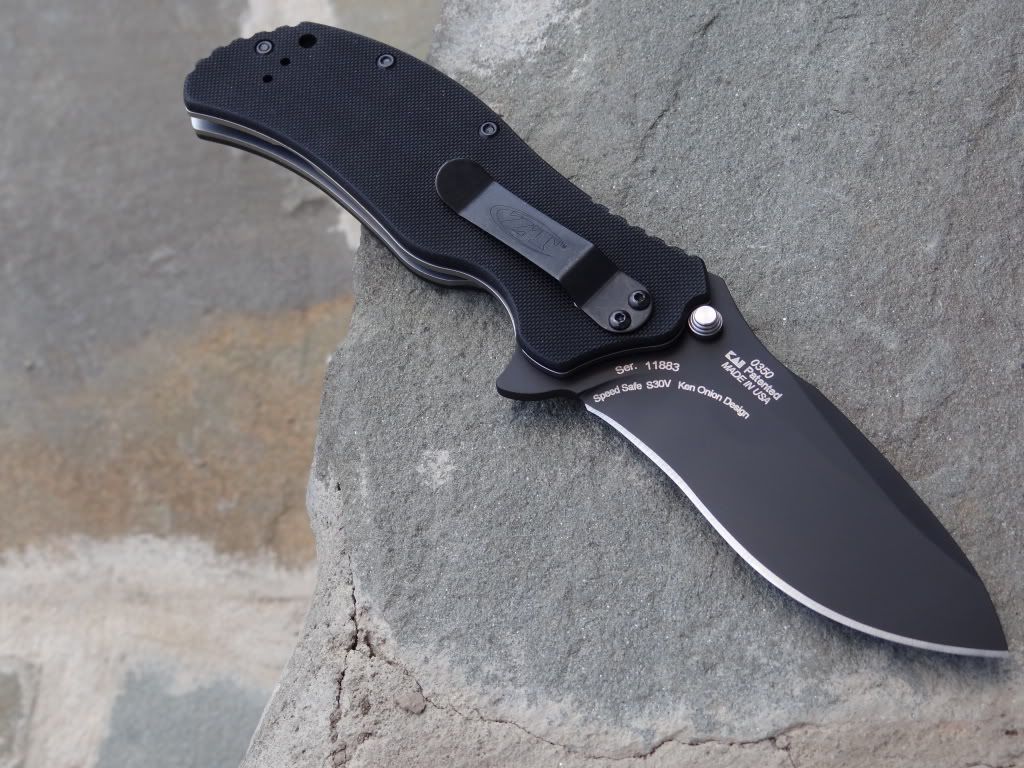 I like the ability to swap the clip position, for most tip down is less optimal for carry, but you have the option. Also it's lefty friendly, for a liner lock anyway, and you can swap the clip to either side. The one ergonomic miss in my opinion is the thumb studs, which like on all kershaw stud-flipper combo knives, are kinda hard to access. Frankly, to me it doesn't matter since the flipper is so easy to actuate and works for both hands, so this is only a minor miss.
Other than those minor issues, the knife is a solid 9/10. I've carried these extensivly in the past so I know what great knives they are, but I had a new one so I wanted to snap the photos and share the thoughts. As an EDC, it's an awesome piece, one of my favorites. Kicks the pants off of any Emerson and the 300 series really gives the Strider framelocks a run for their money in terms of quality and construction. Even the new 560 series is almost out-Hinderer-ing a real Hinderer. Kershaw and ZT are pretty much poised to take over the hard use niche if they continue on the path they're on, they're def the company to beat right now and as long as they keep putting out awesome knives, I'm going to keep buying them.